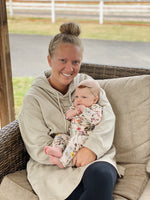 Soft. Cozy. Simple.
Knowing babies need soft clothing for their delicate skin, we designed our luscious apparel to be soft, comfortable, and quality made.
With over 8,000 five-star reviews, our team of moms reached the top of several websites' ratings for gender-neutral baby clothes.
Having gentle care will bring happiness.
Xo,
Lana (founder)